The Madras Bar Association, a prominent lawyers' body in Tamil Nadu, has objected to the Hindi names given to Bills that aim to replace the Indian Penal Code (IPC), Code of Criminal Procedure (CrPC), and the Indian Evidence Act.
In a resolution passed by the Association, they expressed their strong disapproval of the names "Bharatiya Nyaya Sanhita Bill" (Indian Penal Code Bill), "Bharatiya Nagarik Suraksha Sanhita Bill" (Code of Criminal Procedure Bill), and "Bharatiya Sakshya Bill" (Indian Evidence Act Bill).
According to the Bar Association, these Hindi names go against the provisions of the Constitution and they believe the English names should be retained. The objection is based on the Association's belief that language should not be a barrier to access and understanding of the law, especially considering the diverse linguistic landscape of India.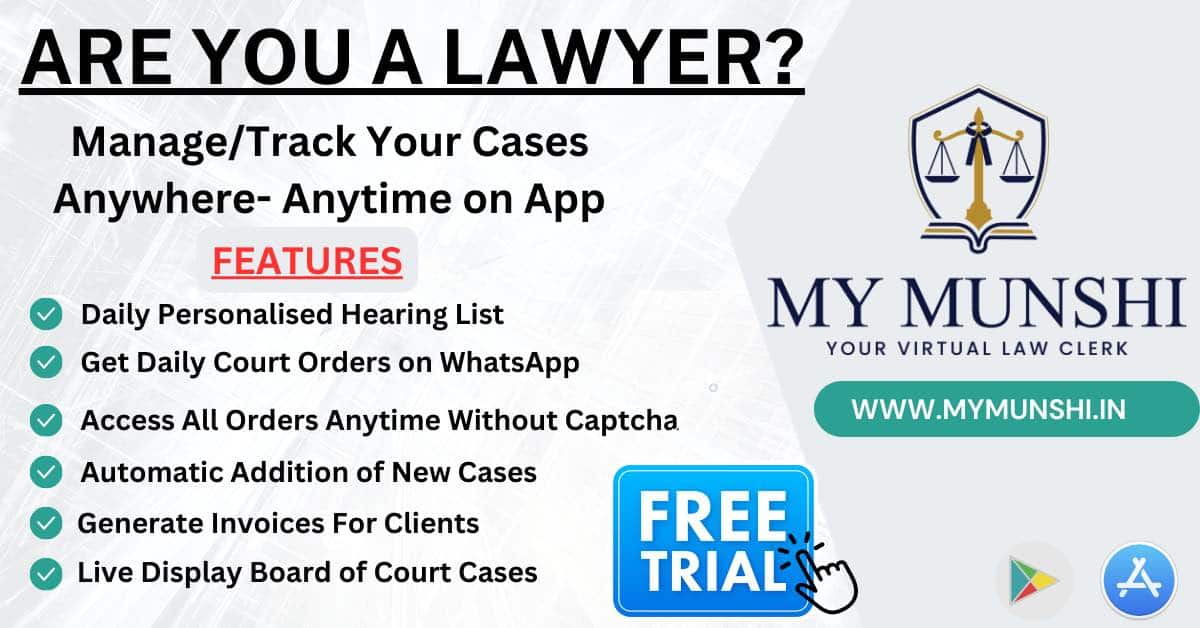 The Bills were introduced by the Union Home Minister, Amit Shah, on August 11 in the Lok Sabha, the lower house of Parliament, on the final day of the Monsoon Session. The Bills have now been referred to the Parliamentary Standing Committee for further consideration and scrutiny.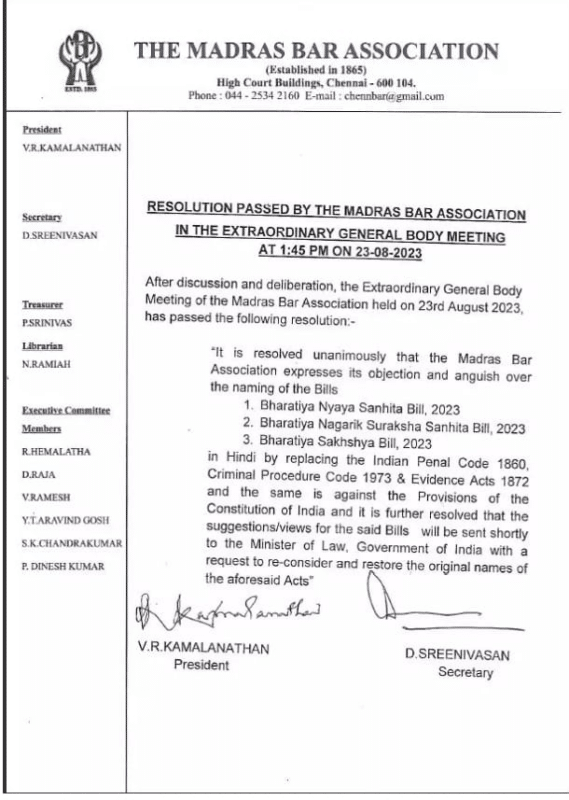 It is worth noting that this objection raised by the Madras Bar Association is not the first time language has become a contentious issue in the Indian legal system. India is home to numerous regional languages, and ensuring legal documentation is accessible to all citizens, regardless of the language they speak, has been an ongoing challenge.
Moreover, the linguistic diversity of India has resulted in the adoption of English as the language of the higher judiciary and parliamentary proceedings. This has been viewed as a compromise to ensure linguistic inclusivity and the efficient functioning of the legal system.
The objection raised by the Madras Bar Association is expected to spark a larger debate on the use of Hindi as the medium of legal language and the need to provide translations or maintain English names for crucial legal documents and legislation.
The resolution passed by the Madras Bar Association is likely to be followed by similar objections and discussions across legal circles, as the issue holds significant importance in terms of linguistic rights and accessibility of laws. It remains to be seen how the Parliamentary Standing Committee addresses the concerns raised by the Association and whether any changes will be made to the Hindi names of the Bills in question.
Regardless of the outcome, this debate reflects the intricacies and challenges of linguistic diversity within the legal framework of a vast and diverse country like India.
After discussion and deliberation, the Extraordinary General Body meeting of the Madras Bar Association held on 23rd August 2023, has passed the following resolution:
'It is resolved unanimously that the Madras Bar Association expresses its objection and anguish over the naming of the Bills
1. Bharatiya Nyaya Sanhita Bill, 2023
2. Bharatiya Nagarik Suraksha Sanhita Bil, 2023
3. Bharatiya Sakhshya Bill, 2023
in Hindi by replacing the Indian Penal Code 1860,
Dana Criminal Procedure Code 1973 & Evidence Acts 1872
and the same is against the Provisions of the Constitution of India and it is further resolved that the suggestions/views for the said Bills will be sent shortly to the Minister of Law, Government of India with a
request to re-consider and restore the original names of the aforesaid Acts"