Hon'ble Chief Justice of High Court of Gujarat Mr Vikram Nath made an unscheduled visit to the Central Filing Centre (CFC).
Filing Center is located in the campus of the High Court of Gujarat.
The purpose behind his visit was to understand the procedure followed in the CFC.
Hon'ble CJ laid n emphasis on the procedure followed while dealing with cases that were filed through the e-filing portal.
The Hon'ble Chief Justice sat with different personnel and observed them while they went about their daily work.
He took a look at all the aspects of cases received through the e filing portal to print the documents.
Hon'ble CJ also observed that one of the employees had already processed the matters that were filed by the afternoon of the previous day, and the cases that were left were processed before the Lordship.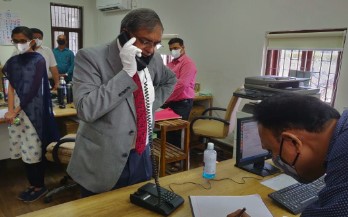 After checking the procedure adopted to process cases received through the filing portal, the Hon'ble Chief Justice proceeded to inspect the department that dealt with raising objections.
Some matters were processed before the Lordship, and he was shown why specific objections were raised and what was the process for rectifying them.
He also confirmed that objections that were raised were available on the website of the High Court and the concerned counsels also received intimation regarding the same.
Chief Justice Mr. Vikram Nath visited helpline Room
Before concluding his visit, the Hon'ble Chief Justice visited the helpline room as well. He got on a call with a Counsel whose case objections were not cleared promptly.
Chief Justice jotted down the details of the case and ensured the Counsel that his issue will be cleared. He directed the helpline staff to make sure that maximum calls were attended.
During his visit, the Lordship also stated that through the process of e-filing, various hurdles faced by the litigants. Due to this cases can be filed on time.
The Chief Justice also confirmed that a training cum awareness program had been arranged for the lawyers. So that they can use the e-filing portal effectively.