With the push of Digital India by the Government as well as the E-Committee of the Supreme Court of India, the Digitalization of Courts and Bar Association has been focused upon.
To fulfill this objective, recently, the Awadh Bar Association, which is an association of lawyers practising at Lucknow High Court, has launched an App for its members on both Android and IOS platforms. The First phase of App on Android Platform was inaugurated by the Chief Justice Govind Mathur.
With this the Awadh Bar Association of Lucknow High Court has joined the league of very few bar associations in India to have its own App.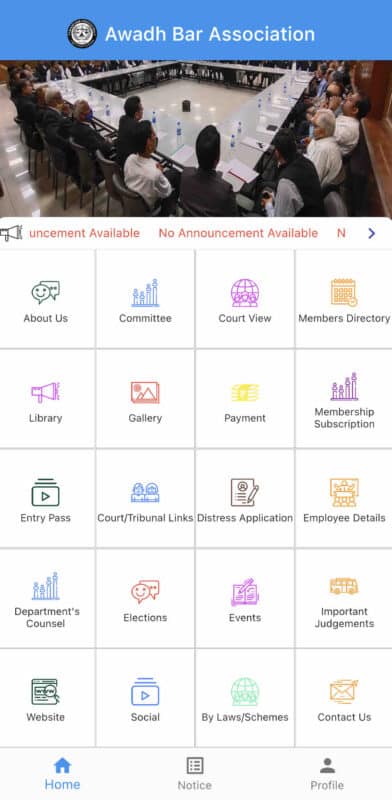 Some of the Bar Associations to have their App on both platform are:
Kaithal District Bar Association, Karnal, Haryana.
Delhi High Court Bar Association, Delhi.
Jaipur Bar Association
Surat District Bar Association
Bombay Bar Association
Shahdara Bar Association
Madras Bar Association
The App contains following information and features:
History of ABA
High Court Lucknow High Court
List of Senior Advocates
List of Life Members
Members Directory
Minutes of General Body and Executive Meeting
List of Sitting Judges
Court's Display Board
Online Payment of Membership Fee
Library
Entry Pass etc.
The App has been made in the regime of 2020-21 Executive of Awadh Bar Association with Mr. HJS Parihar as its President and Mr. Sharad Pathak as its General Secretary.
Earlier the Website of the Awadh Bar was also launched for the ease of its members.
Also Read