The Chief Judicial Magistrate, Alibaug has granted permission to the local CID unit of Raigad Police to interrogate Mr Arnab Goswami for three hours every day.
CID unit of Raigad police had approached the Magistrate on Thursday and had sought leave to interrogate Arnab Goswami in premises of Taloja jail where he is presently lodged.
Before the Court, the police submitted that because the Magistrate had remanded Mr Goswami to judicial custody, they(the police) were not able to interrogate Goswami in depth.
The Judge agreed with the contention of the police and allowed them to interrogate Arnab Goswami.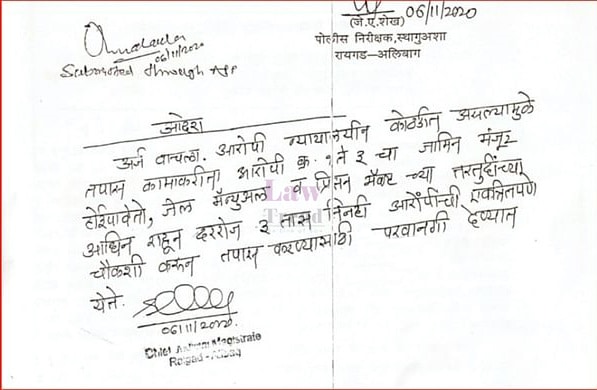 Yesterday, the Bombay High Court pronounced its verdict on the plea of Arnab Goswami. Mr. Goswami had filed a Habeas Corpus Petition and was seeking bail in that. The High Court rejected the interim relief plea to release Goswami.
Immediately after the Order of the Bombay High Court, Arnab Goswami has filed an application for regular Bail before the Sessions Court.
As per the information available the aforesaid bail application is likely to be heard today.
If Arnab Goswami fails to get relief from Sessions, Court on the Application filed under section 439 Cr.P.C., then he has to approach Bombay High Court challenging the said order of Sessions Court.