On 14th July, the Ministry of Home Affairs (MHA) directed all State governments and police chiefs to withdraw pending cases and directed them not to register other cases under repeal Section 66A of Information Technology Act of 2000.
This direction was made after the Apex Court expressed shock that authorities still using Section 66A were still being used to prosecute people even though the Section was declared unconstitutional six years ago. The Bench headed by Hon'ble Justice RF Nariman was hearing the People Union for Civil Liberties' application that sought guidelines, and directions against  FIRs registered under Section 66A.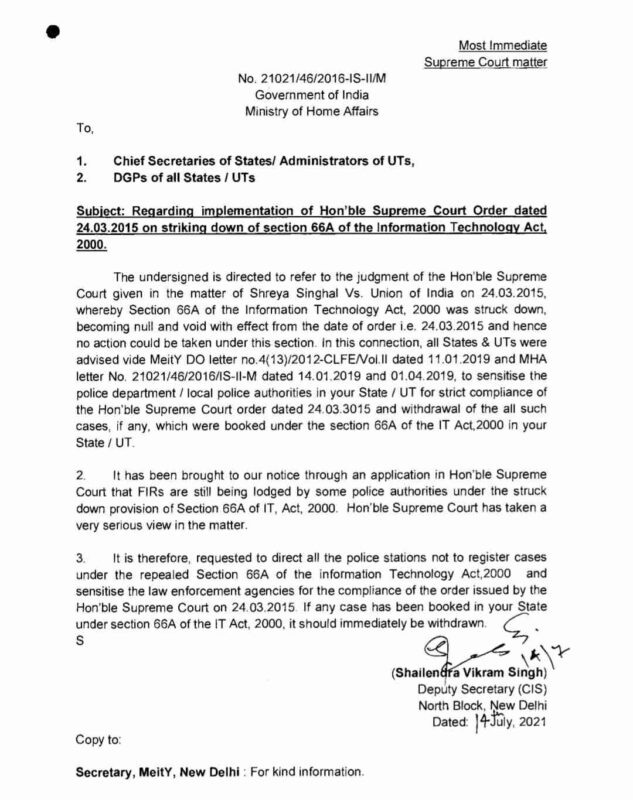 Also Read
The Section was struck down under Apex Court judgement in Shreya Singhal vs Union of India dated 24/03/2015. In this regard, all UTs and States were directed by the Ministry of Electronics and Information Technology vide letter dated 14th January 2009 to sensitise the police authorities to follow the Top Court's direction.
Therefore, the Court directed all police stations not to register cases under the repealed Section 66A of Information Technology Act of 2000 and sensitise law enforcement agencies for compliance of order issued by the Hon'ble Supreme Court on 24/03/2015. If any case is booked, then it should be immediately withdrawn.