An SLP has been filed in the Supreme Court challenging Allahabad High Court at Lucknow's order dated 25.03.2021 that directed the State of UP to take 2015 as the base year instead of 1995 for reserving seats in the upcoming UP panchayat polls and hold elections by 25.05.2021.
Along with the SLP an urgency application was filed for early hearing, which has been allowed.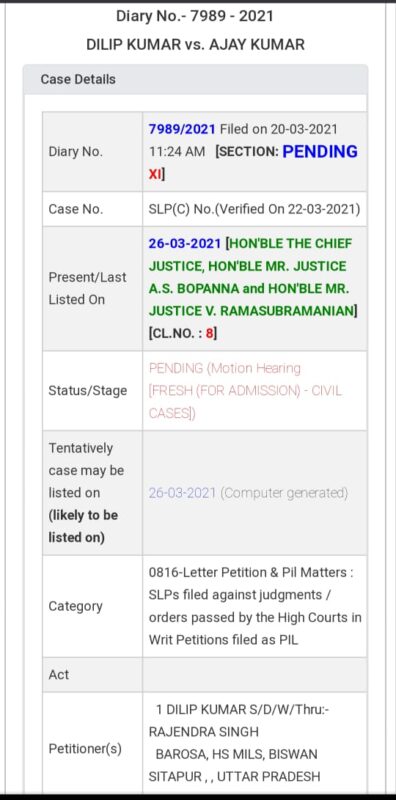 The matter is posted for hearing on 26 March 2021, before the bench of Chief Justice S A Bobde, Justice AS Bopanna and Justice Ramasubramanian at Serial No 8.
Photo
The SLP also challenges the UP government's steps in compliance with order passed by the High Court, through which the petitioner's constituency Ishapur(Jaunpur District) which was earlier earmarked as unreserved but has now been reserved for OBCs.
Earlier, the High Court had quashed the UP government's order dated 11.02.2021 that dealt with reservations of seats for many candidates, and 1995 was considered the base year.
The petitioner contended that it was not brought to the High Court's notice that the 11th Amendment on 09.02.2021 amended the Uttar Pradesh Panchayat Raj Rules.
As per the petition, when Panchayat Elections were due in 2015, the State government amended the 1994 Rules through the 10th amendment by incorporating a provision to Rules 4.
The amendment provided a new rotation commencement and ignored the prior status of the reservation/rotation for gram panchayats in respect to every reserved category.
According to the petition, to obviate the anomalous and chaotic situation and to bring uniformity to the panchayat election, the Government amended the 1994 Rules through 11th amendment to ensure that no Panchayat of the State is deprived of the benefit of reservations based on caste.
Also Read
Follow Law Trend for all latest updates.