On Saturday the Union Law Minister Shri Kiren Rijiju made a special mention of CJI DY Chandrachud for ensuring speedy justice to a disabled candidate aspiring for UPSC.
He wrote:
This is such a heart warming action by hon'ble Chief Justice Dr DY Chandrachud. A great relief to a Divyang candidate who sought a scribe for the Judicial Service exam in Uttarakhand. AIIMS had certified his disability. Timely Justice to a deserving person is very satisfying.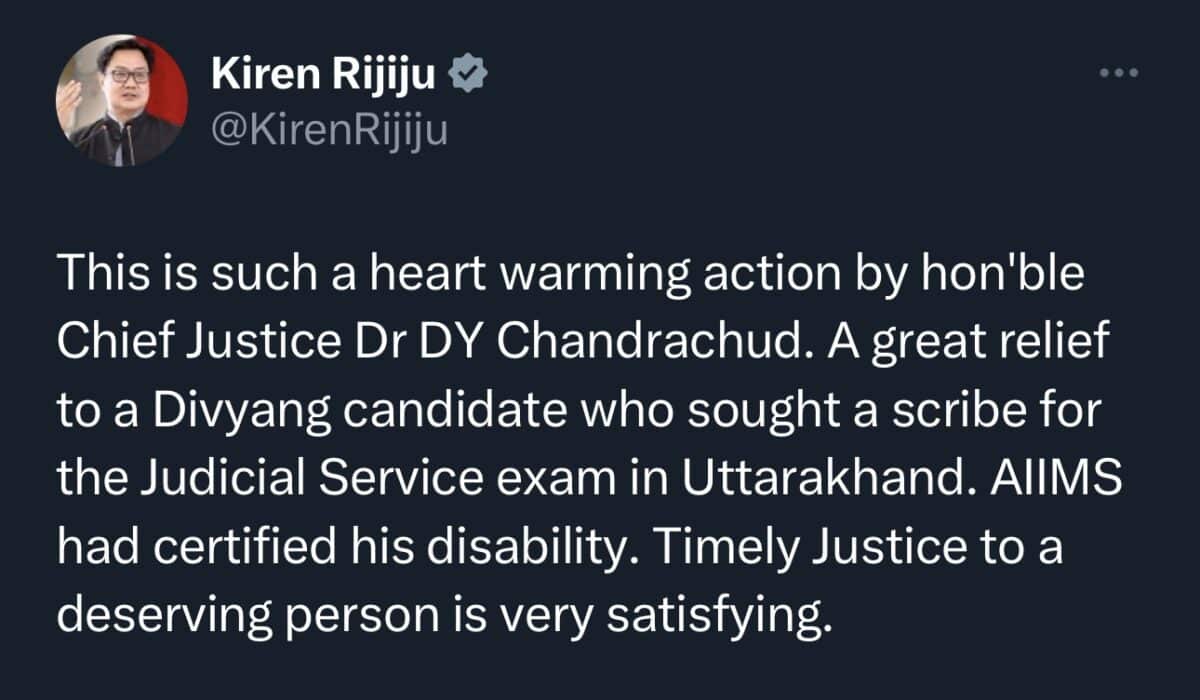 What was the case and Order Passed?
The Supreme Court has granted permission for a judicial services aspirant suffering from writer's cramp to have his preliminary examination for civil judges in Uttarakhand written by a scribe on Sunday.
Dhananjay Kumar, the candidate, petitioned the Supreme Court, claiming that his request for a scribe to the Uttarakhand Public Service Commission was denied on April 20, just days before the scheduled test.
He requested that the court appoint a scribe for him because he suffers from writer's cramp and provided a certificate from the All India Institute of Medical Sciences dated September 25, 2017, detailing his condition.
Writer's cramp is a task-specific movement disorder characterised by abnormal postures and unwelcome muscle spasms that impair motor performance while writing.
The court took note of the submission made by advocate Namit Saxena, who represented Kumar.
Following that, a bench led by Chief Justice DY Chandrachud issued a notice to the Uttarakhand Public Service Commission and the state government seeking an explanation for why Kumar's request for a scribe was denied. It instructed them to respond by May 12.
"We issue an ad interim order to the Uttarakhand Public Service Commission, which is in charge of conducting the examination, to ensure that the petitioner receives a scribe for the upcoming examination." "This shall be without prejudice to the parties' rights and conditions and subject to such further orders as this court may pass," said the bench, which included Justice PS Narasimha.