The Lucknow Police has lodged an FIR against the Management of "Sun Hospital" for displaying notice of "Shortage of Oxygen".
The Police claims that the notice published by the Hospital was with the intention of black marketing and to spread rumours.
The FIR has been registered at Vibhuti Khand police station Lucknow.
The Notice published by Sun Hospital is: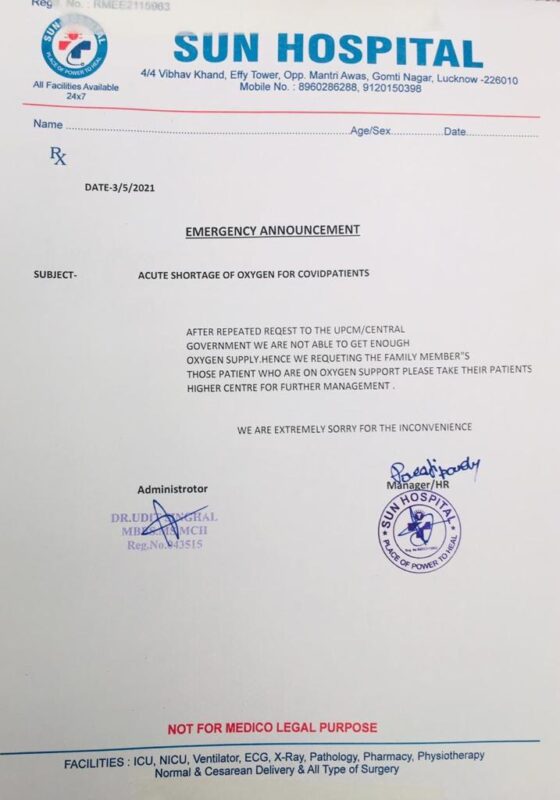 The Police has registered the case under Section 52 and 52 of Disaster Management Act 2005, Section 3 of Epidemic Disease Act 1897, and Section 188 and 269 of IPC.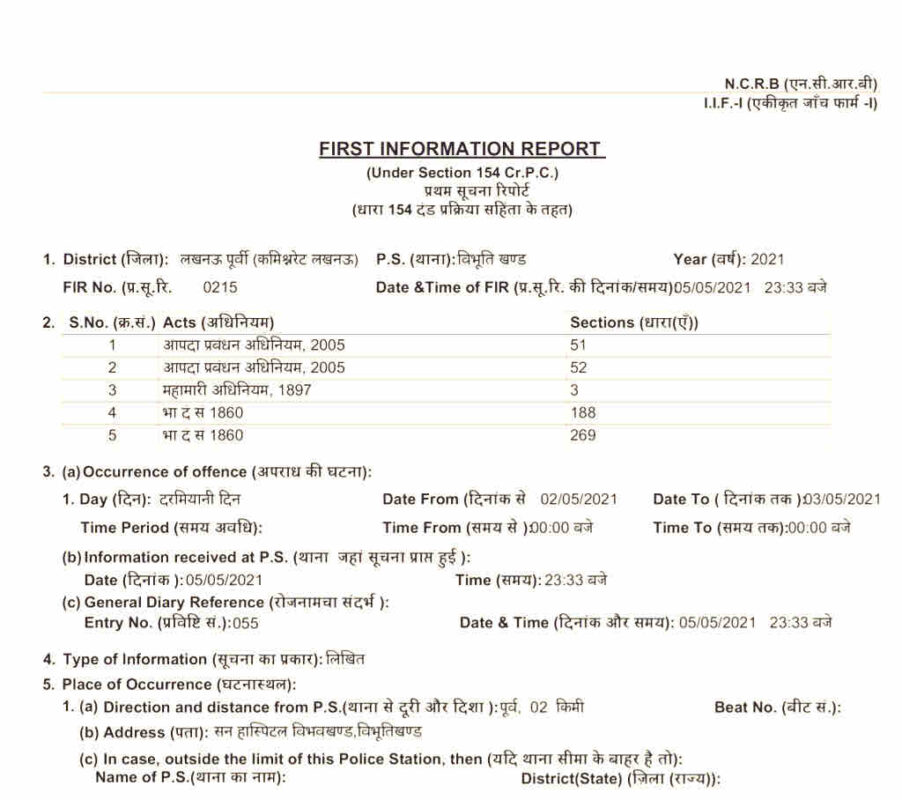 As per media reports, a notice was also sent to the Sun Hospital, for breaching COVID protocols and the Hospital was directed to ensure adherence of COVID protocols, but due to the notice published by the hospital a panic was created amongst the patients and critical patients were asked to shift to other hospitals.
The notice further says that after inquiry it was found that at the time of publishing notice, the Hospital had 8 Jumbo Oxygen Cylinders and 2 B Type Oxygen Cylinders with a concentrator.
Also Read
Further as per the report, there total 25 COVID-19 patients in the hospital out of which 20 needed oxygen support and therefore there was no shortage.
The notice further said that Non-COVID patients were treated along with COVID patients which was against the guidelines and the publication of such false notice was an attempt to hoard oxygen, which is a serious crime.
As per the hospital there were a total of 38 patients admitted at the time. Dewendra Tiwari, nursing in-charge at the hospital told The Wire Media that, "They can check our cameras…we did not have even one bed empty at that time."