While passing his judgment in a bail plea.
Justice Amitabh Rawat Addl. Sessions Jude, Karkardooma Court, took a novel approach to the art of judgement writing. 
Instead of writing judgment the usual way, the Judge wrote the judgement as a poem.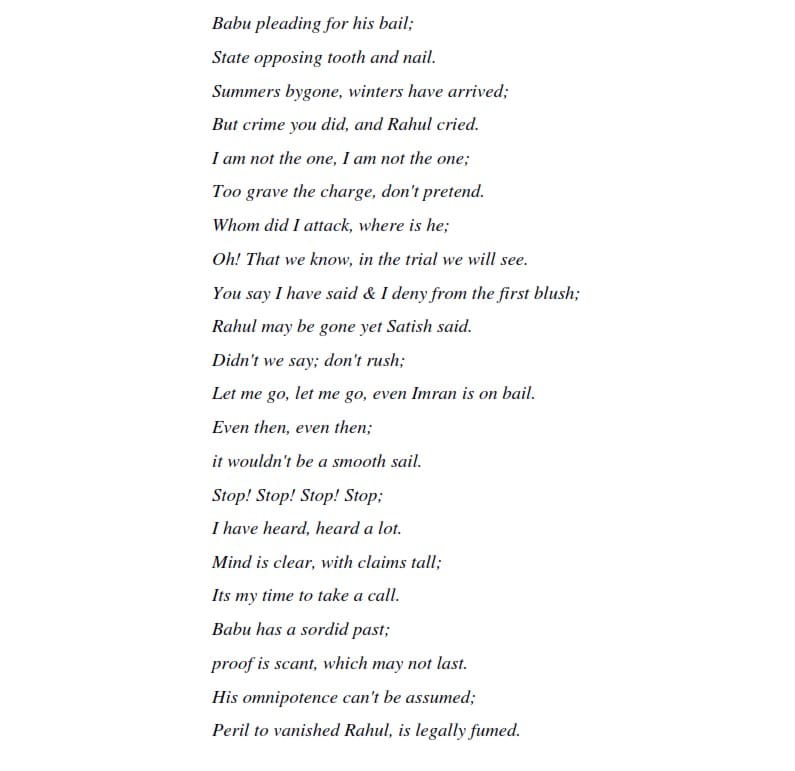 Background of the case:-
A bail application was filed before the Hon'ble Judge, where the injured(Rahul) suffered a gunshot injury.
Rahul gave a fake address to the police and was untraceable even before the police recorded his statement.
The police arrested the accused, Babu, who had a lengthy criminal history on 08.04.2020. Ct. Satish identified him.
Counsel for the accused, claimed parity as another accused who was also identified by Ct. Satish was enlarged on bail by this very Court.
Apart from the charges of rioting, no other evidence was led by the prosecution.
Decision of the Court
The Court held that the accused should be enlarged on bail on furnishing a personal bond Rs 10,000 and one surety to the satisfaction of the Court.
Some conditions imposed on the accused were:-
Accused will not leave Delhi without the permission of the Court and will not indulge in any criminal activities.
He will not contact any witness or tamper with the evidence.
The accused will be present on every date of the hearing.
Case Details:-
Title: State vs Babu
Case No. Bail Application No.1623 of 2020
Date of Order:07.11.2020
Coram: Hon'ble Justice Amitabh Rawat