The Supreme Court will deliver its decision in the case of OBC/EWS reservation in the NEET All India Quota tomorrow.
Counseling for NEET-PG admissions has been halted due to the Supreme Court's decision in this case.
Yesterday and today, a bench comprised of Justices DY Chandrachud and AS Bopanna heard extensive arguments in the case.
The case concerns the validity of the Centre's decision to include OBC/EWS reservation in the All India Quota for NEET admissions.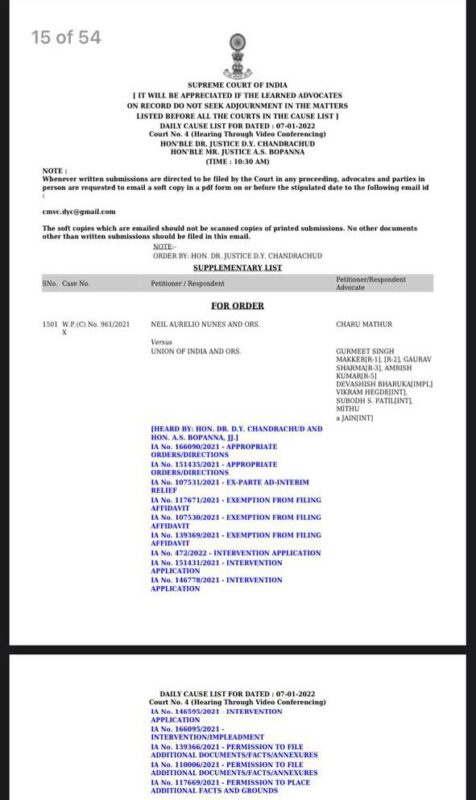 The dispute stems from a notification issued by the Central Government on July 29 that included a 25% reservation for Other Backward Classes (OBCs) and a 10% reservation for Economically Weaker Sections (EWS) in the All India Quota (AIQ) for undergraduate and postgraduate medical / dental courses (MBBS / MD / MS / Diploma / BDS / MDS) beginning with the current academic year 2021-22.
During the hearing, the Supreme Court questioned the reasonableness of the Centre's Rupees 8 lakh gross annual income limit for determining EWS cut-off. The bench also issued a detailed order outlining its reservations about the reasonableness of the EWS limit.
On October 25, the Central Government informed the Supreme Court that NEET counselling would not begin while the EWS-OBC issue was being resolved.
On November 25, the Centre agreed to reconsider the EWS criteria in light of the Court's concerns and formed a Committee to investigate the matter. The Centre requested several weeks to complete the exercise. As a result, the Supreme Court postponed the case until January 6, 2022.
Last week, the Centre filed an affidavit stating that the Committee had recommended that the existing EWS criteria be retained for ongoing admissions and that the Centre had accepted the recommendation.