Under the aegis of Committee for Sensitization of Family Court Matters, headed by Justice Sunita Agarwal, Judge, Allahabad High Court, two days workshop for the Principal Judges and Additional Principal Judges, Family Court (Lucknow Cluster) was organized at JTRI on 15th and 16th April, 2023, in which about 28 Principal Judges and Additional Principal Judges, Family Court from the districts Bahraich, Bareilly, Hardoi, Lakhimpure Kheri, Lucknow, Pilibhit, Shahjahanpur, Shravasti and Sitapur participated.
This Two-day workshop was organized to sensitize the participating Judges in the matters involving the concept of understanding gender, laying the ground rules, ice-breaking exercises, core concepts of gender in society, understanding stereotypes, gender in language, gender in the judiciary, interrogating cultural stereotypes and existing workplace scenario and role of gender in it.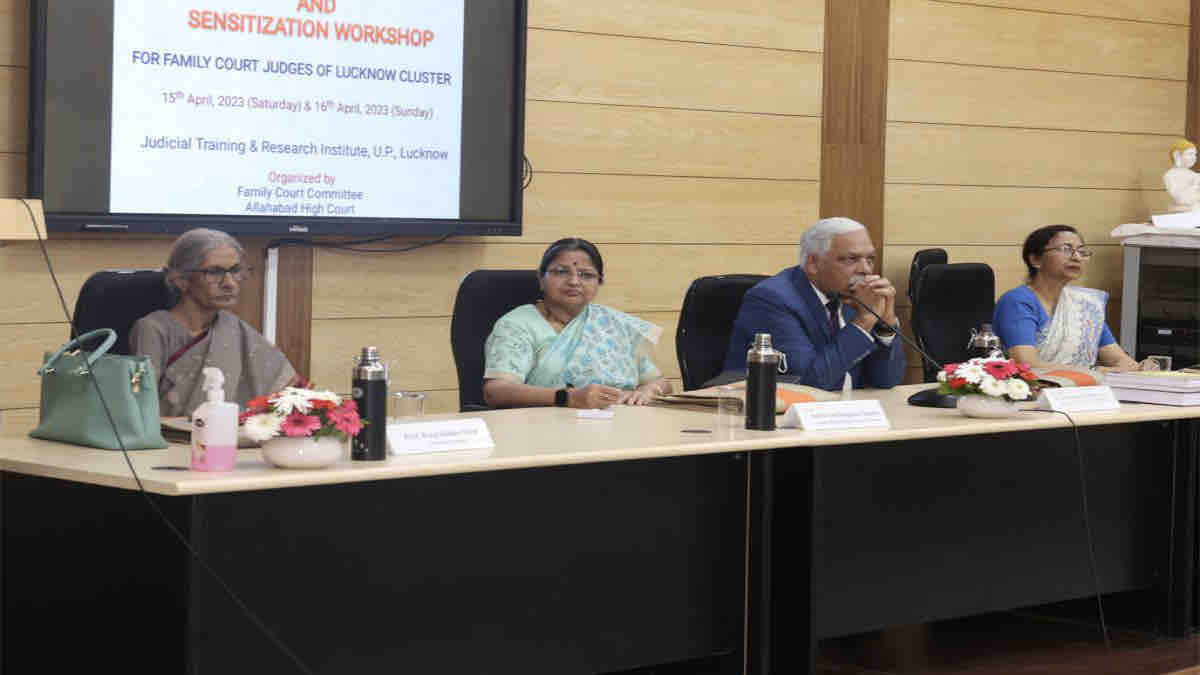 The inaugural session of the workshop was held on 15th April, 2023 from 10.30 a.m. to 11.30 a.m. in the Meemansa Lecture Hall of JTRI. The workshop was inaugurated by. Justice Devendra Kumar Upadhyaya, Senior Judge, Allahabad High Court at Lucknow, Chairman, Supervisory Committee, JTRI & Member, Committee for Sensitization of Family Court Matters in the august presence of Justice Sangeeta Chandra, Judge, Allahabad High Court at Lucknow & Member, Committee for Sensitization of Family Court Matters.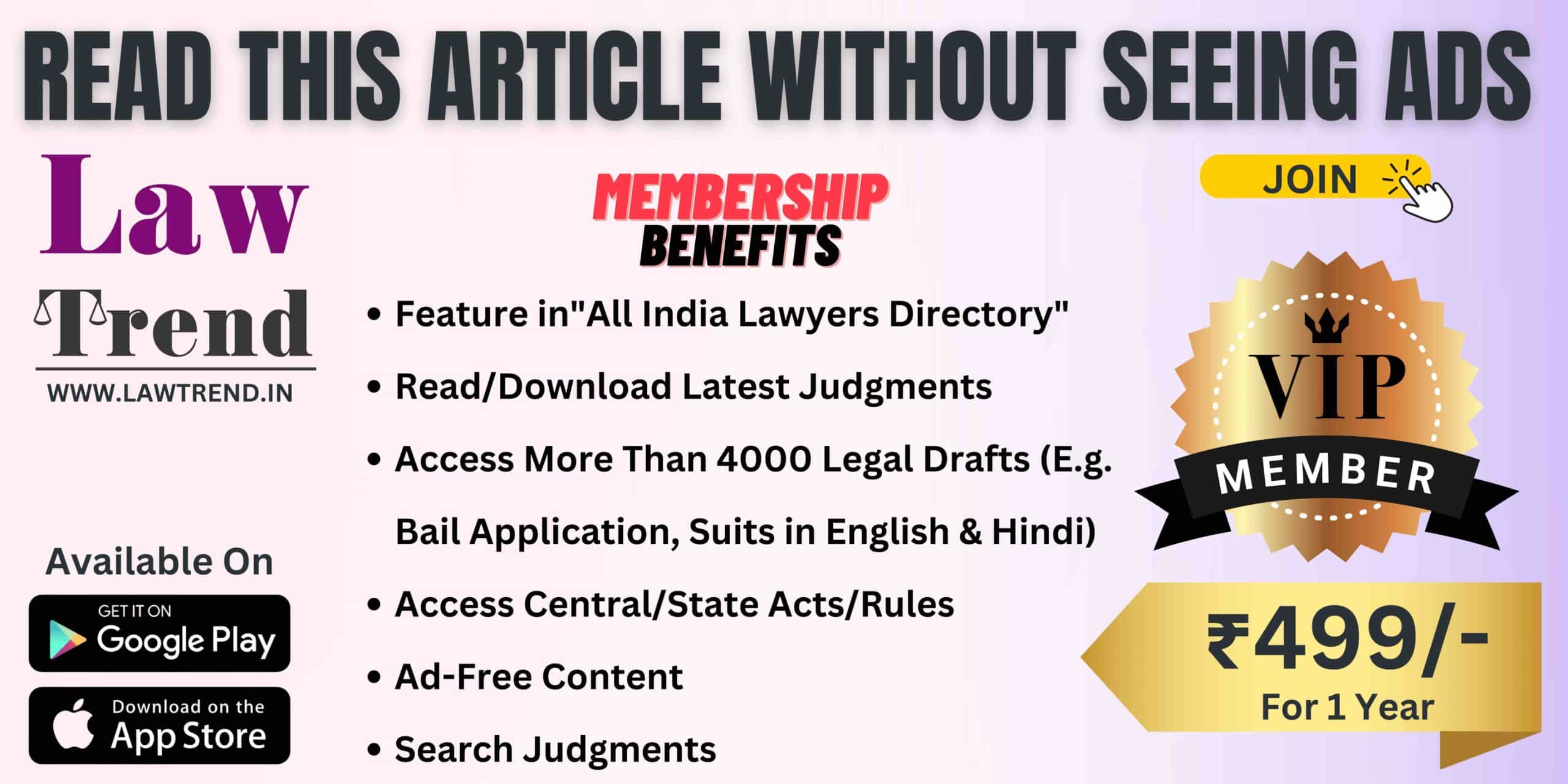 The workshop started with the introduction and objectives of the workshop explained by Prof. Sumita Parmar, who is a prominent name in the field of gender studies followed by a talk on understanding gender by Prof. Roop Rekha Verma, Former Vice Chancellor, Lucknow University and a prominent activist in the field of gender sensitization. Prof. Sumita Parmar said that the focus of the workshop would be to clarify the concept of gender and sensitize the participating Judges about different nuances of gender equality and gender justice in the context of judicial work.
Prof. Roop Rekha Verma started her talk on the concept of justice and its immense need for each member of society. She elaborately discussed the historical background in which gender biases and gender injustice germinated and grew up over the centuries. She referred to tribal communities in the context of certain pre- conceived notions and said that a number of stereotypes grew up unconsciously in society but they were later on imbibed and embraced by different communities leading to the solidification of such pre-conceived notions perpetuating gender inequality. She mentioned a traditional pre-conceived notion that procreation is the only duty of women and they are meant only for it. Then there have been misconceived notions about the distribution of work between men and women. She said that compassion, sacrifice, love and affection are common qualities of both men and women though these have been mostly referred to as the qualities of the women. Men and Women both have played vital role in the movement for gender equality and gender justice.
In the inaugural speech, Justice Devendra Kumar Upadhyaya, Senior Judge, Allahabad High Court at Lucknow said that the idea of an egalitarian society can be materialized only when all sections of the society are given freedom to nurture and develop their human abilities in the best possible manner. Gender equality emphasizes that all human beings whether men or women are free to develop their personal abilities and make the choices without the limitations set by stereotypes, rigid gender rules, political and other prejudices.
The issue relating to gender equality is very-very complex. Complex in what sense? Complex in the sense that issues faced many times have been taken for granted by all of us. Howsoever highly educated we may be, howsoever professionally experienced we may be in our respective life. But we tend to take these issues for granted. Secondly we are always in denial mode and everybody in the society is always in a denial mode when any such thing occurs or happens, but it exists. Why, because this is the manner in which it has been opposed by all of us. Family comprises of people from different genders and sects but to deal with family court problems your assessment is very-very necessary. We are trained to deal with stereotypes and other gender related issues.
For gender sensitivity, we need to unlearn a lot of things which we have learned over last 40-45 years or even more than that. When we will unlearn the traditional pre conceived notions and knowledge, we will be open to learn new things and new ideas on gender issues.
The implementation issues should now be at the forefront of public discourse. The curriculum design for this workshop is different. Besides the different design of the workshop, we have a number of distinguished academicians as panel experts, researchers; field experts for this workshop which will not only enrich your knowledge but will also give you a different exposure. I extend my best wishes for the success of this workshop.
In technical sessions, the resource persons provided insightful module making the participants to interact with each other and identify the core concept of gender sensitization. Some videos were played to show the real picture of gender discrimination in day to day life as prevalent in patriarchal society.
The resource persons sensitized the participants with practical inputs to highlight the age old conception about women in Indian Society.
Last session was concluding session in which Prof. Sumita Parmar gave the closing remarks. Justice Sangeeta Chandra, Judge, Allahabad High Court at Lucknow & Member, Committee for Sensitization of Family Court Matters gave blessings and tendered the vote of thanks saying that there is a need to change our mind set as the stereotypes are placed in the subconscious. We should keep on checking our approach and change it as and when required. In family court matters, we have often been focusing on 'fault element' in matrimonial matters. We have to change our perception at our own level. We should become more liberal while granting maintenance.