Under the aegis of the Allahabad High Court Committee for 'Sensitization of Family Court Matters', headed by Justice Sunita Agarwal, Judge, Allahabad High Court, the Valedictory Session of the two-day training on the Mediation Techniques for the Family Court Judges of Uttar Pradesh was commenced today in the Circuit House (Annexe Auditorium), Gorakhpur, under the guidance of Justice Pritinker Diwaker, Chief Justice, Allahabad High Court and in the benign presence of Justice Sangeeta Chandra and Justice Sadhna Rani (Thakur), Judges, Allahabad High Court and Members, High Court Committee for Sensitization of Family Court Matters.
The workshop consisted of brainstorming sessions on wide arena of topics such as Effective and Ineffective communication, Barriers to Communication, Types of Communication, Verbal Communication, Non- Verbal Communication, Negotiation-Definition, Negotiation Styles, Competitive and Cooperative Negotiation Skills and various other allied topics through interactive sessions, role-plays and screening of relevant video clippings. The workshop was a high yielding session for the distinguished and revered participants who benefited greatly from the interactive sessions. The workshop will enhance the skills of the Family Court Judges in dealing with the matters of matrimonial disputes through mediation.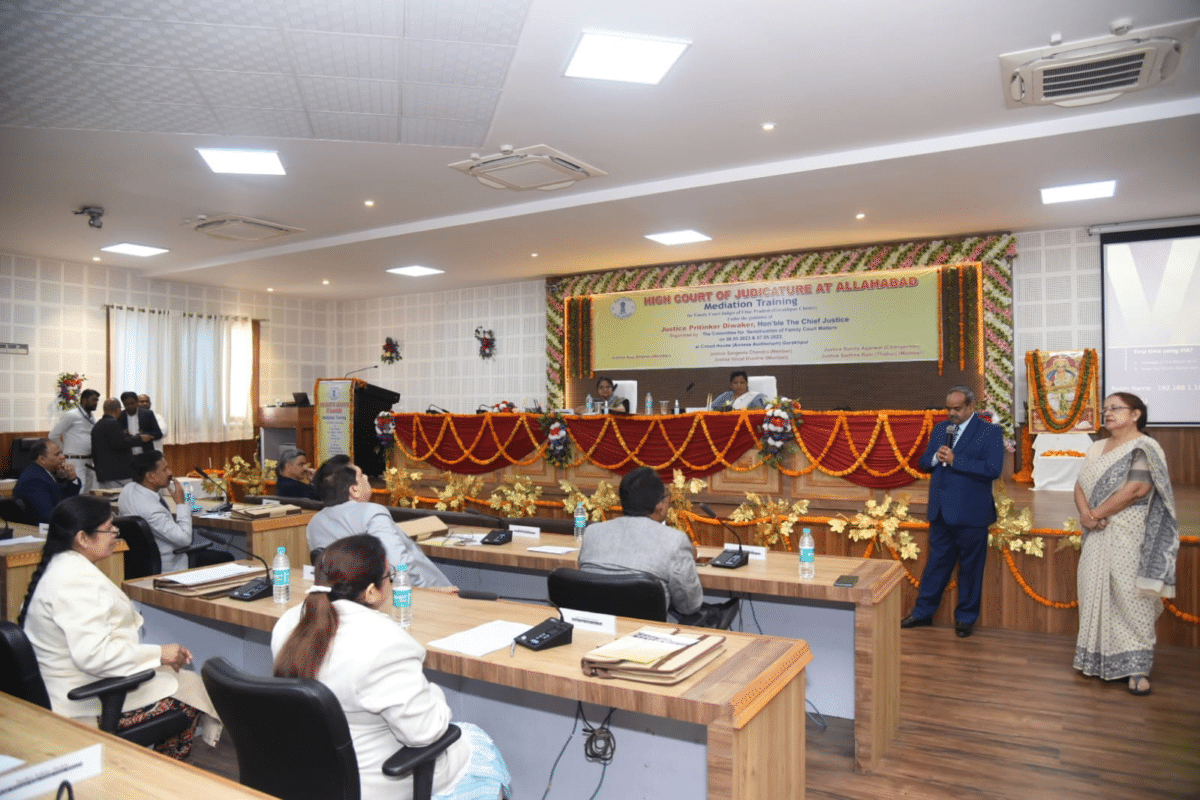 The said training was imparted by the Expert Mediation Trainers of the Mediation and Conciliation Project Committee (M.C.P.C.), Supreme Court namely, Sri Anoop Kumar Srivastava, Sri Niraj Upadhyay, Smt. Rajlakshmi Sinha and Sri Sandeep Saxena, who gave a panoramic outlook for the importance of the tools of Mediation in family dispute matters and made the inquisitive audience ruminate over the salient aspects of Mediation and Negotiation.
The valedictory speech was rendered by Justice Sangeeta Chandra, in which the sharp distinction between adjudication and mediation was accentuated upon. Furthermore, the importance of Pre-Litigation in family dispute matters was also highlighted. It was stated by the Hon'ble speaker that Family Court Judges should engage in active listening of the parties which can help in finding the root cause of chasm between the parties and resolving the family disputes.
Justice Sadhna Rani (Thakur), Member of the Committee for Sensitization of Family Court Matters, rendered a vote of thanks. She stated that the workshop will only be considered successful if the participating Family Court Judges feel some change in their attitude after the workshop and find themselves to be more sensitive in deciding the disputes of families. Furthermore, successful mediation would be helpful in more disposal in less time and thus minimizing the burden of the courts. She also explained that successful mediation doesn't mean that the parties always agree to live together and thus uniting the family always. If from mediation, the parties get rid of their long unwanted and painful relation, it is also a successful mediation.
The participating Judicial Officers were given certificates by Justice Sangeeta Chandra, Member of the Committee for Sensitization of Family Court Matters.