Can an Advocate be arrested? or Can FIR be Lodged against an Advocate? are some questions which we will deal with today in this article.
India is a democratic country and its Constitution is Supreme. The Judiciary has been conferred with the responsibility to protect and uphold the Constitution.
Judges and Lawyers/Advocates are two main pillars of the judicial system in India and absolutely indispensable to the mechanism of administration of justice.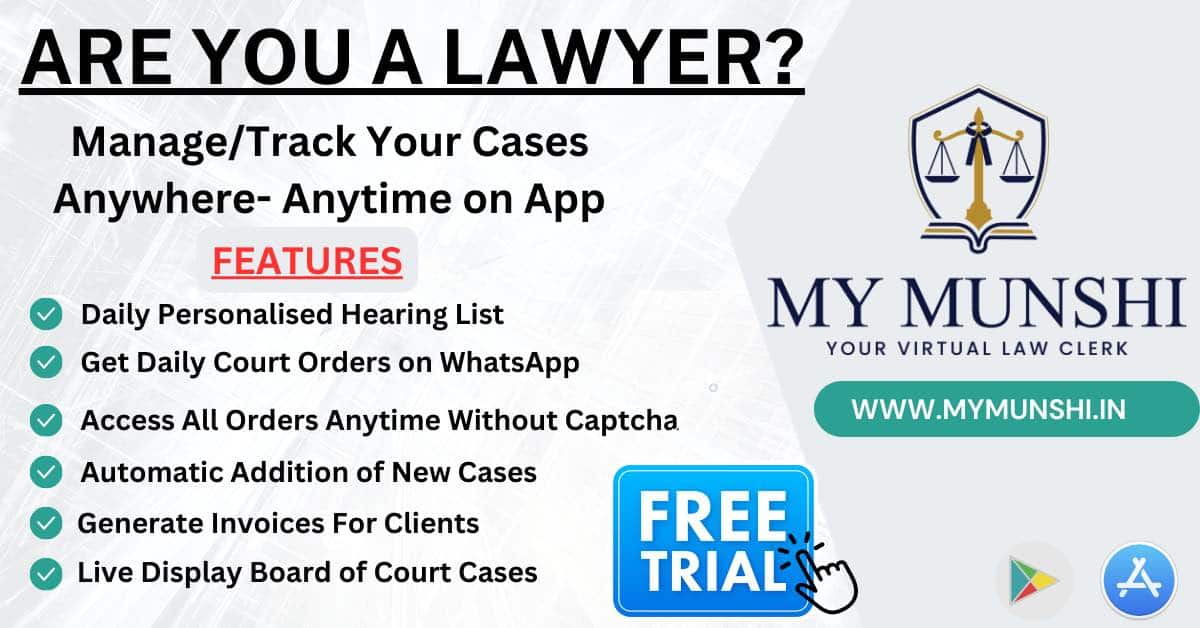 Therefore it is obvious that in order to ensure their effective contribution in upholding the constitution, necessary protection is required for the actions of discharge of their official or professional duty.
As far as Judges are concerned, they have been granted protection under the Judges Protection Act, 1985 and under some Judgments of the Supreme Court, from arrest and lodging of FIR. To Know More About Judges Immunity from Arrest and FIR Read below Article:
Now under this Article we will try to shed some light on protection available to Lawyers/Advocates from arrest and lodging of FIR.
The first Judgment which protects Lawyers/Advocates from arrest and lodging of FIR is Central Bureau of Investigation, Hyderabad versus K. Narayana Rao.
In this case, a Panel Lawyer of a bank was charge-sheeted by the police under Sections 120-B, 419, 420, 467, 468 471 read with Section 109 of the Indian Penal Code, 1860 and Section 13(2) read with Section 13(1)(d) of the Prevention of Corruption Act, 1988.
The Lawyer was accused of abusing his official position and conspiring with officials and private individuals for defrauding the bank by sanctioning and disbursement of housing loans to 22 borrowers in violation of the Bank's rules and guidelines.
A Division Bench of Justices P. Sathashivam and Ranjan Gogoi, was hearing an appeal against the Judgment of Andhra Pradesh High Court, which allowed the Petition of Lawyer and quashed the criminal proceedings.
The Supreme Court observed that Professionals such as lawyers, doctors, architects, and others are included under the category of those professing some special skills under negligence law.
The Bench further observed that:
A lawyer does not tell his client that he shall win the case in all circumstances. Likewise a physician would not assure the patient of full recovery in every case. A surgeon cannot and does not guarantee that the result of surgery would invariably be beneficial, much less to the extent of 100% for the person operated on.

The only assurance which such a professional can give or can be given by implication is that he is possessed of the requisite skill in that branch of profession which he is practising and while undertaking the performance of the task entrusted to him, he would be exercising his skill with reasonable competence.

This is what the person approaching the professional can expect. Judged by this standard, a professional may be held liable for negligence on one of the two findings, viz., either he was not possessed of the requisite skill which he professed to have possessed, or, he did not exercise, with reasonable competence in the given case, the skill which he did possess.
The Court held that only when a lawyer was an active participant in a scheme to defraud the bank does the lawyer become liable. In the present case there was no evidence to suggest that Lawyer was assisting or abetting the initial conspirators.
Most significantly, the Bench also observed:
However, it is beyond doubt that a lawyer owes an "unremitting loyalty" to the interests of the client and it is the lawyer's responsibility to act in a manner that would best advance the interest of the client.
"Merely because his opinion may not be acceptable, he cannot be mulcted with the criminal prosecution, particularly, in the absence of tangible evidence that he associated with other conspirators.
At the most, he may be liable for gross negligence or professional misconduct if it is established by acceptable evidence and cannot be charged for the offence under Sections 420 and 109 of IPC along with other conspirators without proper and acceptable link between them.
It is further made clear that if there is a link or evidence to connect him with the other conspirators for causing loss to the institution, undoubtedly, the prosecuting authorities are entitled to proceed under criminal prosecution. Such tangible materials are lacking in the case of the respondent herein."
Therefore, from the above Judgment of the Supreme Court it can be concluded that a lawyer acting in his professional capacity in good faith cannot be subjected to criminal prosecution. At the most, if it is found that the act is in violation of rules of the Bar Council, he may be subjected to disciplinary action by the Bar Council only.
Bar Council Of Maharashtra And Goa vs The State Of Maharashtra
The Bombay High Court has given a significant Judgment on the issue of arrest of Advocates.
In this case an Advocate was detained by the police, who went to the police station to provide legal assistance to an accused summoned by the Police.
The Bar Council filed a petition accusing criminal contempt of court submitting that an Advocate is a court officer and part of the administration of justice. Therefore Contempt of court is committed when an advocate is disrespected or ignored while performing his or her professional duties.
A Division Bench of Justices Naresh H. Patil and K.U. Chandiwa observed that
This is not a case where an advocate is prevented deliberately by police while he is on way to attend the court proceedings or is obstructed deliberately in respect of on-going court case while an advocate was leaving the court premises.
The incident in question has taken place in the police station while the client of advocate Shri Harish Bhatia was called for interrogation by police. In such situation the alleged incident which took place in police station could not be equated with the proceedings before a court.
Therefore from the above observation it can be said that police cannot deliberately prevent an advocate from attending Court or cause any obstruction in conducting a case or cause obstruction when an advocate is leaving the court premises.
Any of the aforesaid action to prevent the Advocate from appearing in Court or conducting the case shall be taken as contempt of the court and obstruction in administration of Justice.
Subha Jakkanwar v/s State of Chhattisgarh
In this case a Petition was filed by panel Lawyer of a Bank seeking quashing of criminal proceedings lodged against him under Sections 420, 467, 468, 471 and 120B of IPC.
It was alleged in the FIR that the petitioner, who was an empanelled Advocate of Dena Bank at the relevant time, gave non encumbrance certificate of legal scrutiny for grant of loan thus committed the offence.
The Petitioner relied upon the Judgment of Supreme Court in the case of Central Bureau of Investigation, Hyderabad versus K. Narayana Rao and submitted that giving legal opinion based on documents cannot be considered offence, if the document later on found to be fake or false.
The Chhattisgarh High Court observed that it is well-established law that extending a legal opinion for the purpose of obtaining loans has become an essential component of an advocate's employment in the banking sector. A lawyer, for his part, has a responsibility to act to the best of his knowledge and skills and to show unwavering allegiance to his clients' interests. He must apply his knowledge in a way that benefits his clients' interests.
However, in doing so, the advocate does not ensure his client that the opinion he has provided is flawless and must, in all likelihood, function to his advantage. As with any other profession, the only assurance that an advocate acting in his professional capacity can provide and may even imply is that he possesses the necessary skills in his field of practise and that, while performing the task entrusted to him, he will exercise his skills with reasonable competence. The only culpability that can be imposed on an advocate while functioning in his professional capacity is that of negligence in the application or due execution of legal abilities.
CONCLUSION
In view of the above Judgments it can be concluded that an Advocate or a Lawyer cannot be arrested for any action or omission in discharge of their professional duty. For example a Lawyer cannot be subjected to criminal prosecution for giving wrong legal advice.
Similarly no FIR can be lodged against an Advocate or Lawyer for any action or omission in discharge of his/her professional duties.
Another recent example where no protection from Arrest or FIR can be claimed is of Madhya Pradesh, where a lawyer has been booked for sending birthday wishes to a lady Judge, by using her photograph from facebook. Here the Advocate cannot claim protection, as his actions were not in discharge of his professional duty.
The only body which is competent to take any measure against an Advocate or Lawyer is the Bar Council, with who he or she is registered. Even the Court itself cannot take any action on the license of an Advocate.
By-
Rajat Rajan Singh
Editor-In Chief at Law Trend
Advocate- Allahabad High Court at Lucknow